About Us

As a community-based business, PC Sound is all about you. We strive to provide the best customer service experience possible because we want you to be successful. That is why we have made it our mission to provide reliable products and services in our customer-driven approach.
We offer a wide variety of options to choose from so that our team can more easily assist you in finding just the right product or service to make your dreams happen. If you are having any issues or need advice, we are always here to help you - by sharing our knowledge or helping you take advantage of our repair and warranty service.
Our store specializes in:
Music Equipment & Accessories

Special Event Gear Rentals

Music Instruction (music lessons)

Equipment Repair

Audio, Video, & Lighting Installations
Our courteous, professional team is able to support a range of services to meet your requirements.

To learn more about PC Sound Inc., and the products and services we can offer, please call us at 252-946-6100 or 252-353-6101 for our Greenville location.
Come join us for our bi-annual Food for Strings event! The event is a "food drive" but with a twist - you get stuff in return and it's a win-win situation for everyone! This time, for every 5lbs of cat/dog food or $5 donated, you'll be entered into our raffle for one of two PC Sound gift certificates ($60 and $40 runner-up)! And if you have a guitar or bass needing new strings, we'll hook you up with those too - for free!
Guitars require a minimum of 5lbs/$5 donation to receive strings and install.
Basses require a minimum of 15lbs/$15 donation to receive strings and install.
All donations collected will be given to the Pet Food Pantry of Eastern NC.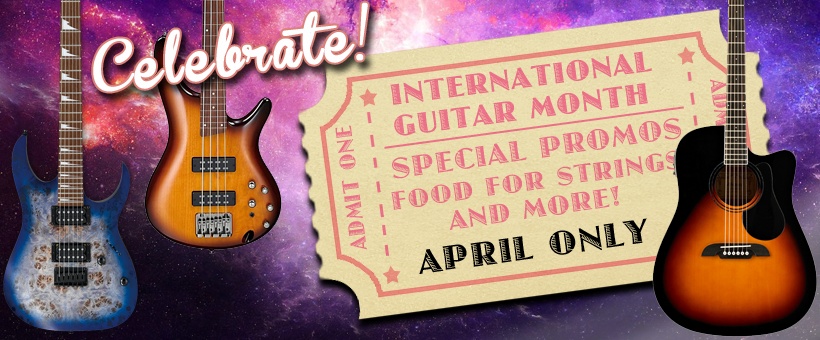 During International Guitar Month - purchase a $100+ guitar, bass, or ukulele and you'll get 10% of the value towards accessories OR lessons! For example, purchase an Ibanez electric guitar at $600, get $60 to use towards a hard case, strings, guitar books, picks, music lessons etc.
Don't forget about our Food for Strings deal going on during the last week in April!